Whose eyes have not been enchanted with the beauty of a blossomed almond tree? Those little rosy petals rejuvenate us after a long, deep winter sleep.
It has always been a surprise for me to come across an almond tree but this year was almost like a need especially because of the pandemic and the affects. Driving from home to the village of Ano Mera in Mykonos to pick up my daughter from school, i was captivated by signs which indicate spring. Signs of hope, youth, and rebirth everywhere and an almond tree looming near a small church in the fields.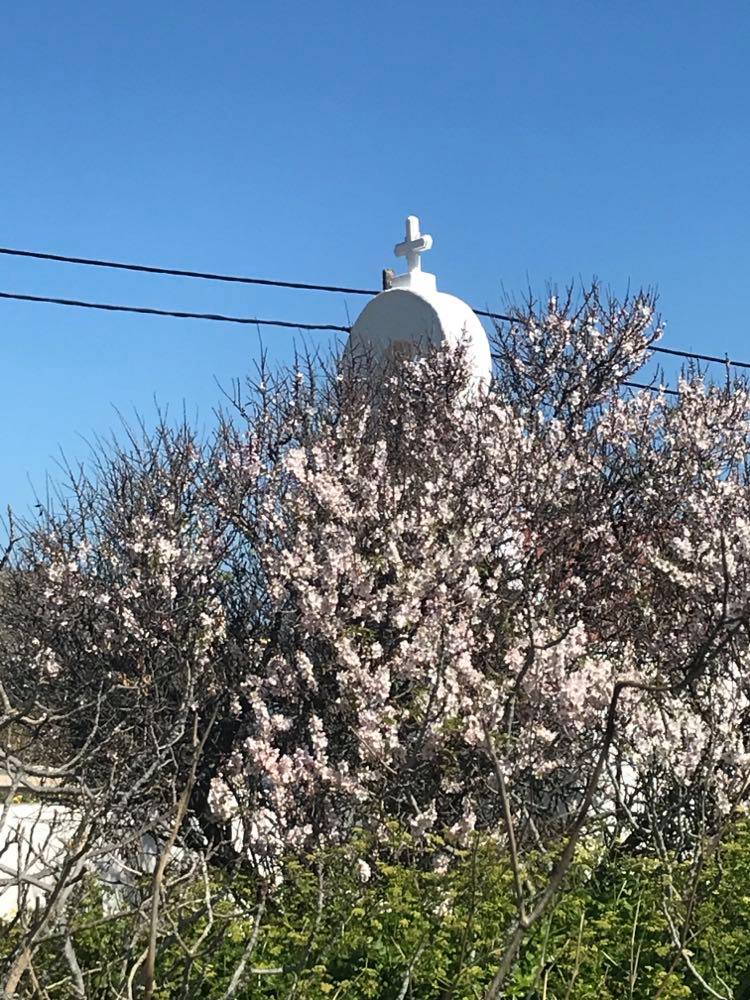 Almond trees have inspired many artists, poets, authors around the world. Nikos Kazantzakis (1883-1957) the great Greek author wrote " I said to the almond tree 'Sister speak to me of God. And the almond tree blossomed".
And what about adding some almonds in your pastry? Their bitterness fused with sweetness is irresistible.
I would like to share with you one of our favourite recipes of a chocolate almond cake which very often i serve in our little eatery Ariston here inside our boutique hotel in Mykonos Aether.
Ingredients
200gr Bitter Chocolate
90 gr peeled almonds + some roasted almonds for the top (in the oven for 5 -8 minutes approximately)
180 gr sugar
130 gr butter  (room temperature)
90gr flour
6 egg whites
a pinch of salt
Method
Beat the almonds in a small electric mixer until to be fine like powder.
In a medium sausepan boil some water in a medium temperature. Place a heatproof bowl over the saucepan adding inside the chocolate in pieces in order to be melted.
Blend in the electric mixer the half quantity of sugar with the butter.
Mix the flour with the almond powder and add to the mix of butter.
Beat the egg whites to a firm meringue adding slowly the sugar and a pinch of salt.
Add the meringue to the mixture and mix gently with a spatula.
Place the mixture in a 20cm tray buttered and floured.
Bake for 30 minutes in 160C degrees.
Sprinkle the top with roasted almonds.
Combine with a cup of good quality coffee and a lovely company.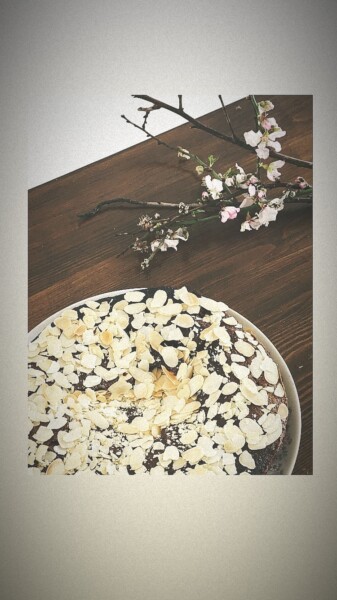 Always for you,
Athina