It's a long time from my last writing here and i have to admit i missed so much this type of communication with you.
A move from Mykonos to my homecity Thessaloniki for spending the winter time, a new home, new schools for the girls and somehow time passed so quickly…
And now, just a few days before Christmas and i realised that baking was the secret of keeping me happily occupied all these months trying to get use again to the city life. Somehow food gave me the interest in a new environment full of challenges positive or negative sometimes.
Near to our home there is one of the most old markets for food iniside the centre…every second morning i use to walk there and choose fresh and seasonal goods for my cooking. Athanasios loves to join me with a cup of his favourite coffee.  Most of times i stand in front of the red beautiful apples and even autumn left us behind, the taste of a well baked apple pie, sprinkled with fine sugar on top, can be the reason to spend my afternoon into the kitchen.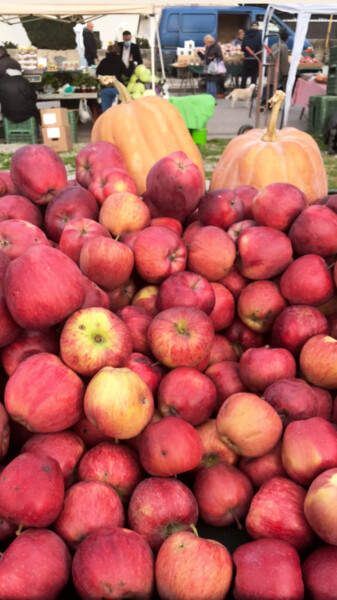 Considering that the apples we find now are coming from the mountains in north Greece and are the most delicious, an apple pie could be an alternative dessert for Christmas dinner or lunch. So, i had to find my notes and my recipe book…
Recipe is here and would be my pleasure to receive your comments or even better photos of your apple pie. But pay attention, the pie comes so soft after baking so would be better to serve it with a spoon.
Ingredients
Dough
120gr plain flour shifted
60gr ground almonds
65gr sugar
a pinch of fine salt
1 egg
100gr unsalted butter
Apples
3 apples peeled and chopped into small pieces
1tbs brown sugar
50gr cognac
Filling
1 double cream
4tbs brown sugar
3 egg yolks
the remained cognac we soaked the apples
2tbs of ground almond
Mix the flour, the almond, the salt and sugar in a bowl. Add the butter and the egg. Mix well until you have a smooth dough and form it in a ball, put in the fridge for two hours at least.
After two hours, roll the dough on a floured surface and shape it an a tin (24cm diametre). Refregirate for 30 minutes more.
Meanwhile, peel the apples, chop and soak in cognac for 30 minutes.
Remove the tin out of fridge and sprinkle the dough surface with 1 tbs of brown sugar. Add the apples without removing the cognac from the bowl.
Bake in the oven (180degrees) for 30 minutes unti apples become golden.
Whisk the cream unti to be fluffy, then add to the bowl with cognac. Mix well, add the brown sugar, the yolks and fill the dough with apples.
Sprinkle with ground almond and bake for more 20 minutes.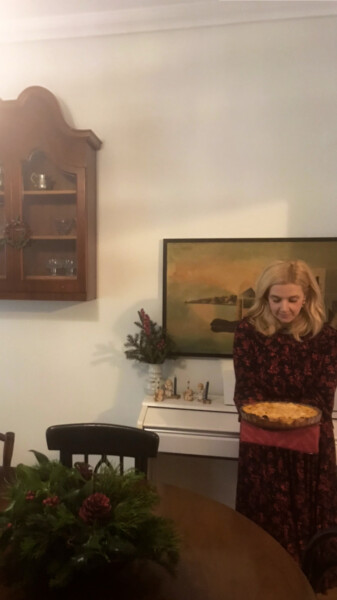 Always for you,
Athina