Christmas bread is a tradition coming from the past, centuries ago, and we can find a variety of types since the shape and the recipe depends to the area is coming from.
Telling the truth, until i moved to Mykonos i had no idea about Christmas bread since in Thessaloniki, my homecity, is not well known.
During my first Christmas holidays in Mykonos, on Christmas Eve morning, Athanasios brought in home a beautiful shaped round bread full of sesame seeds on top and one walnut in the middle.
It was still warm and the living room in a few minutes scented with orange, clove and mastiha aroma. I can still remember the sense that morning…
The flavor was so rich that was impossible to not start asking and searching for more information. For me it was a promise to start baking the bread in our home and despite the procedure is not easy, the amazing Christmas flavor and scent, as the transmission of the tradition to the younger ones, were reasons strong enough to keep baking.
Bakeries in Mykonos are full in Christmas Eve with Christmas breads.
But also many housewives in specific greek areas this day they use to bake the bread. According to the tradition, the baking of this bread symbolizes the fruitfulness and animal's good health. The way of serving it to the family members reminds a lot the tradition of 'vasilopita' or New Year's day Cake.
One of the first things i added to the boxes during our move in Thessaloniki, was the recipe for the bread. I found it published in one of the most popular cooking magazines in Greece and the author is a Mykonian lady with a huge of experience and knowledgement on Mykonian traditions and recipes.
So, few days ago, on Christmas Eve morning, i started early preparations, and around 11am breads were ready… beautiful baking scents made our neighbours to knock our door and ask what there was in our oven…
'Christopsomo' replied loudly Joanna & Sofia and were more than glad to share the breads with them!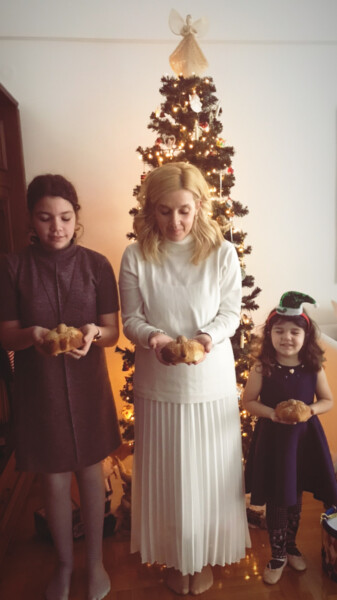 Always for you,
Athina