January and the message was received … the heart of winter … cold days and long frosty nights … even here on the island of Mykonos …
Always adopting an optimistic mindset as spring approaches, this month invites us to make new plans and sort out things and situations.. this kind of sorting out brings to light little treasures!
It was a few days ago when my father-in-law (an authentic Mykonian man) was tidying up and discovered an old postcard depicting the windmill (one of the five mills located on Chora of Mykonos) and which dates back in January 1957 …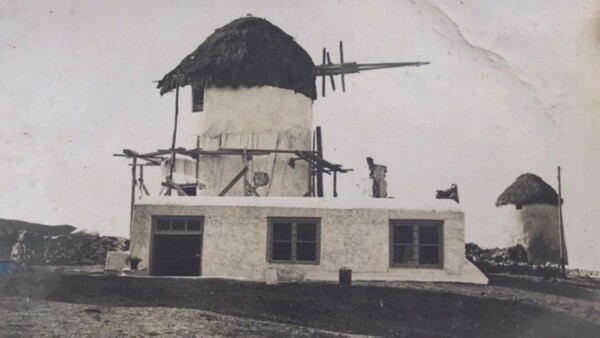 The windmill had operated the longest, since the grandfather Nicholas loved it so much that he kept it in operation until 1970.
The photo depicts the mill while it was being repaired. The postcard was sent to his son—my father in law, Giannis —who was located in Athens at the time. On the back of the postcard, there are wishes from the entire family for his name day on 07.01 where people honor Saint John according to the traditions of the Orthodox Church.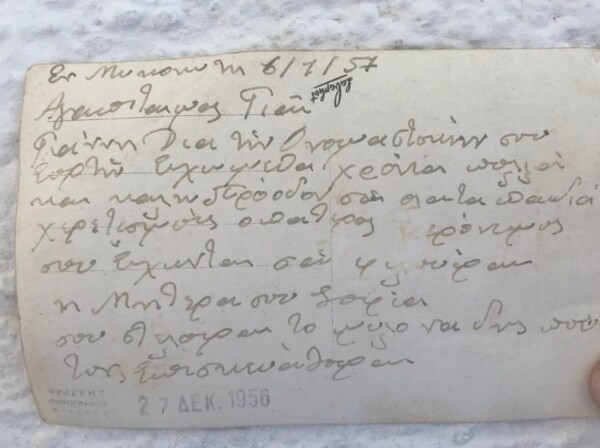 A picture is worth a thousand words.. and also the detailed description of my father-in-law despite his being really quiet, old Mykonos is like giving him life again … but also enriching our knowledge about the history.
And so, among memories and nostalgic smiles, my eye fell on a sculpture of semolina halva … it was made by my mother-in-law and as I was coming closer to investigate it, the smell of cinnamon broke my nose.
Of course I asked for the recipe!
Semolina, roasted pine nuts and cinnamon combined with either a glass of red wine or one of our favourite liqueurs here at Aether, like the liqueur geranium, with a smell of ether and flowers.. The recipe for geranium liquer https://www.aethermykonos.com/greek-recipes/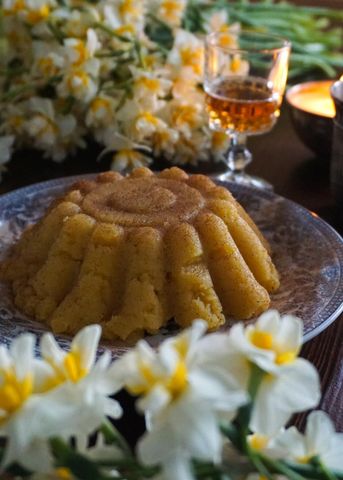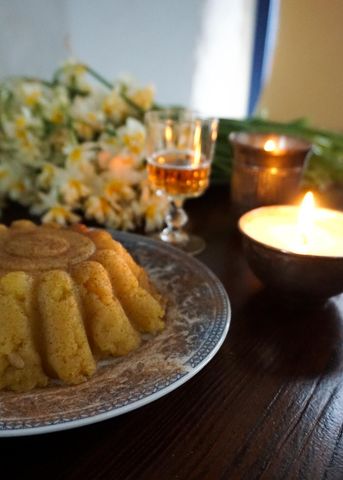 Please see below the recipe for a delicious halva which, I promise, will be included in our breakfast menu this year.. 
Ingredients: 
250gr semolina (thin)
250gr butter unsalted
40 gr pine nuts (roasted)
30 gr raisins (optional)
1kg whole milk
500gr brown sugar
3 small eggs
cinammon
Method
In a medium saucepan, in a medium heat melt the butter, add the semolina and stir about one half an hour until to be cooked but not to change its colour. Meantime, in another saucepan heat the milk with sugar and remove from fire before start boiling. In a bowl shake the eggs and start adding step by step the milk (not too hot).  Add the mixture of milk-eggs inside the semolina and continue to stir until halva thickness and boils. Add the pine nuts and raisins. Remove from fire, empty into a form of your choice and when its cool unmold and sprinkle with cinammon…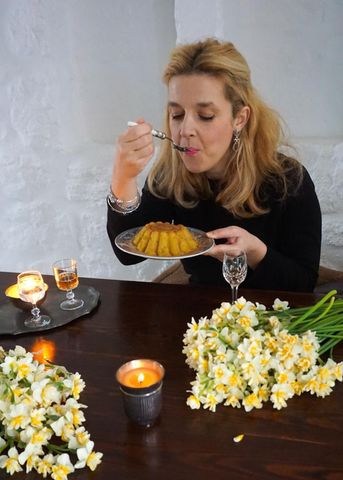 Always for you,
athina