If I was asked what the main characteristics of my country are, I would definitely say the white and blue colours, but above all the unique flavours, such as of mastiha.
As far as I remember myself, one of my most pleasant moments in my childhood was when I tasted mastiha in a piece of cake, in a meal, or even in a chewing gum. Thus, in Aether boutique, I always make sure that my guests are given the opportunity to taste the amazing flavour of mastiha.
Mastiha has been harvested for at least 2,500 years since antiquity. It originates from the mastic tree (Pistacia lentiscus var. chia), which only grows in the south of the island, Chios, in a region called 'Mastihohόria', meaning 'the mastic villages' in Greek1.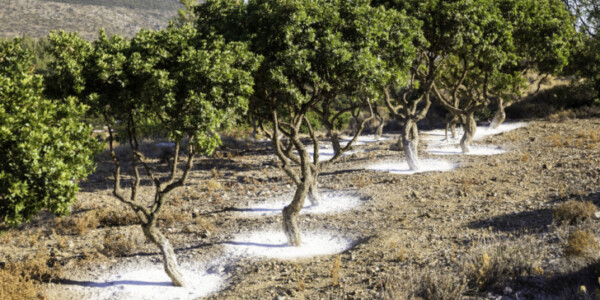 History behind mastiha
The first references to mastiha were found in the work of the ancient Greek historian, Herodotus, who, in the 5th century BC, described those trees that grew on the south side of the island, Chios, and how the ancient Greeks collected their resin and chewed it, both for pleasure and hygienic purposes. In fact, mastiha has been described as the first chewing gum in history2.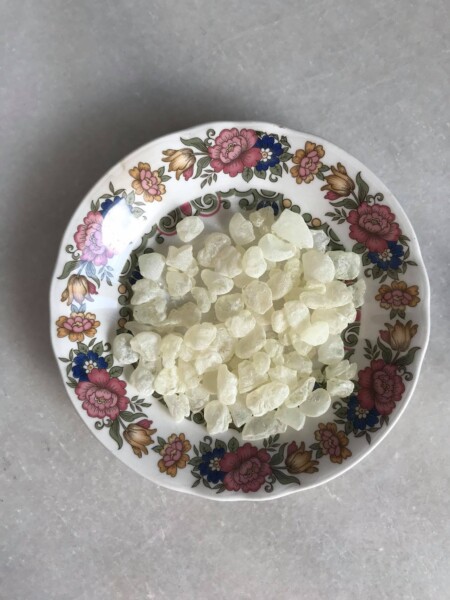 What are the beneficial properties of mastiha?
Nowadays, even with some delay, science comes to confirm the beneficial properties of mastiha product. Specifically,
mastiha has a beneficial effect against digestive diseases; one small glass of mastiha liqueur after meal is recommended;
it contributes to oral hygiene (chewing gum for this purpose- a little bit tough but so aromatic);
and it has a significant anti-inflammatory and antimicrobial activity since it consists of natural antioxidants while at the same time it contributes to the healing of wounds and the regeneration of the skin3.
Today, Greece exports mastiha all over the world. A variety of products is produced with mastiha, such as: pastries, sweets, jams, ice cream, chocolates, chewing gums, caramels, tea, coffee, dairy products, pasta, different types of sauce, liqueurs, ouzo, wine, diet supplements, cosmetics, soaps, essence and so on.
I am more than happy to take your tastebuds on a gastronomic journey…
I would like to share with you a mastiha -lemon cake recipe which we serve at breakfast. It will be a challenge for you to discover mastiha in your area, our beloved readers, but it is worth it!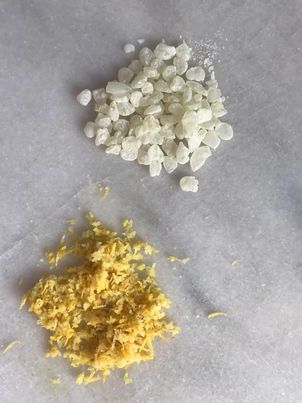 Recipe
Ingredients:
150ml milk
140ml sunflower oil
320gr sugar
300gr flour for all purposes
4 eggs (in room temperature)
1  tbsp baking powder
1 tpbs mastiha (bounden in a mortar and pestle with a pinch of sugar- otherwise you could use the small electric mixer)
zest of 1 lemon
Method
Preheat the oven to 180C degrees.
Beat the eggs with sugar in the electric mixer until to be soft and fluffy (approximately 5 minutes).
Remove from the mixer. Add the oil, the milk, the flour (sifted with baking powder).
Mix with a rubber spatura gently adding the mastiha and the zest.
Place the mixture in a cake form (i love the tall vintage ones) buttered and floured.
Bake for 50 minutes approximately.
Sprinke with some fine sugar and enjoy with your favourite coffee (greek coffee for me https://www.aethermykonos.com/greek-coffee/) or with a small glass of mastiha liqueur.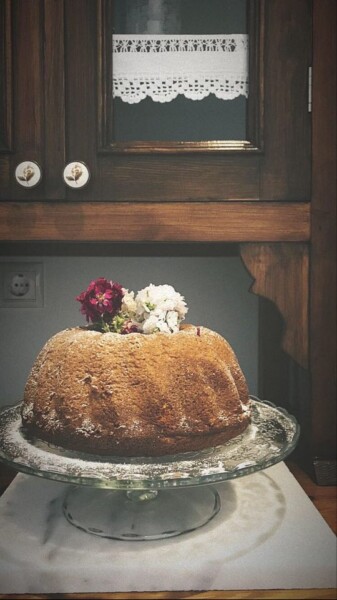 **Very soon we will have the possibilty to communicate here, through your comments! Cannot wait!
Always for you,
Athina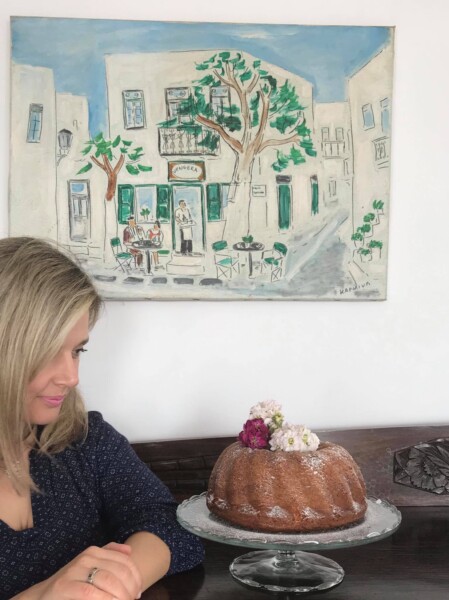 –In the photo: the characteristic Karolina's painting and the flowers in the cake: violets.
Facts
Since 1997, Chios mastiha has been identified as Protected Designation of Origin product (PDO), subject to No.123/1997 Regulation (L0224/24-1-97) of the European Union and has been registered in the relevant community list of the PDO products4.
Chios mastic is certified by the Agricultural Products Certification and Supervision Organization as part of the Hellenic Ministry of Rural Development and Food5.
Today mastic is still one of the most important sources of income for Chios. About 65 percent of the annual production is exported abroad6.
Chios Mastiha Liqueur (Greek: Μαστίχα Χίου, Greek pronunciation: [masˈtixa ˈçu]) is a liqueur flavoured with mastic distillate or mastic oil from the island of Chios7.
References
1 https://mibellebiochemistry.com/de/node/111
2 https://culinarybackstreets.com/cities-category/athens/2019/building-blocks-28/
3 https://culinarybackstreets.com/cities-category/athens/2019/building-blocks-28/
4 https://www.gummastic.gr/en/chiosmastiha/mastiha-a-pdo-product
5 https://www.wikiwand.com/en/Chios_Mastiha
6 https://culinarybackstreets.com/cities-category/athens/2019/building-blocks-28/
7 https://www.wikiwand.com/en/Chios_Mastiha